Hello there! Welcome to another stop on the Funky Hand Blog Hop! I'm so pleased to have you 'hopping' by! You should have reached me from
Lou's wonderful blog
but if you're lost, or haven't a clue what I'm talking about, then head on over to
Anice's blog
to find your way or to find out what all the fuss is about!
We're celebrating the release of TWO new downloads over at
Funky Hand
. They're called '
Funky Kraft Stash
' and '
Steam Funk
' (how cool are those names?!).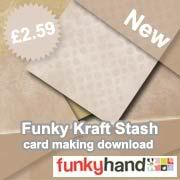 You can get your hands on both of these downloads NOW over at the Funky Hand website.
Funky Kraft Stash
is a beautiful collection of kraft type papers with a twist of subtle pattern thrown in - just gorgeous.
Steam Funk
is a
Funky Hand
take on the steam punk style and it has a lovely distressed vintage feel.
Each of the design team members taking part in the hop are sharing a project they've made using one or other of the downloads - let me tell you, it's well worth a visit to each & every one of them as the projects are STUNNING! And that's without the added bonus of the chance to WIN both of the downloads!!! To qualify for a chance you need to make sure you leave a comment on EVERY blog along the hop, collect a letter from each of these blogs and then rearrange them to make a word. Your winning guess needs to be left as a comment on
Anice's blog
before 12 Midnight GMT on Sunday 15th January.
So onto the project I'm sharing with you. I've made a set of notelets with the
Steam Funk
papers & Alpha-bits...

I reduced four of the papers from the download to A5 size in Photoshop - which gave me four different papers on one sheet (I love to save on ink!). Remember this is something you can do very easily with any of the papers contained in the Papercraft Factory CD series as well - just play around with them in the workspace area. My card blanks & envelopes were just a little short of A5 which gave me enough left to put some scraps together for the 'Hi' card (no waste!). I printed the Alpha-bits on to kraft card - you all know how much I love these and these latest one's are no exception! I've kept the embellishing simple with some purple staples, some ribbon and some teeny tiny gems. I know these notelets aren't exactly very steam punk or grungy but I wanted to show you that the download can be used in other ways too!
So, back to the hop! The letter you need from me is...
I